David "Zeb" Cook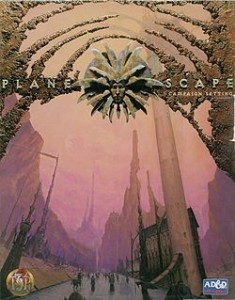 I'm overwhelmed with the success of the Torment: Tides of Numenera Kickstarter. It's amazing and I cannot wait to work on it, as the guys at inXile are really a great bunch. It's got me thinking  a bit about the original Planescape: Torment game, which was fun (although I never actually worked on it, I enjoyed playing it, like just about everyone else). Which of course brings to mind Planescape itself, which was also a blast to work on. The Planescape tabletop rpg setting, created by David "Zeb" Cook, taught me a lot about rpg setting design.
When I was about 14 years old, I was in a bookstore checking out the latest D&D offerings, when a new module caught my eye. It was called Dwellers of the Forbidden City, and while it looked cool and had a great cover, what attracted me was the author's name: David Cook. Because, of course, that guy's name was my last name. I remember it so clearly because it was the first time I realized that it was somebody's job to write D&D modules.
I wanted that to be my job.
Years later, while working as a freelancer rpg designer, I got invited to interview for a job  at TSR itself. Before the scheduled interview, I happened to meet David "Zeb" Cook at a convention and he sat down with me and talked about what it was like to work there. He was great, and even bought me lunch. By that time, Zeb was the creator of 2nd Edition D&D–pretty much already a legend. When I got the job, it was Zeb that came to the airport to pick me up. A great guy. It wasn't that long before we started to joke that we were related (we weren't) and that was how I got the job.
My first week at TSR was kind of rough. I wasn't sure I'd made the right decision to come to work there. They didn't seem to be doing much in the way of product that excited me. On the Friday of my first week, however, a boxed set showed up on my desk. I opened it up, and was utterly blown away. I spent the weekend reading a new campaign setting called Planescape and it was light years beyond anything I'd seen before. The text was imaginative, daring, and bold, and matched the fantastic art (by Tony DiTerlizzi) perfectly. It was written by Zeb, and I knew then and there that I wanted to work on products related to that setting.
After a while I did get to work on Planescape products–Planes of Conflict, Planewalker's Handbook, Dead Gods, Hellbound, and a lot more. By the time Planescape: Torment was created, Zeb had moved on from TSR, but his legacy was clear. The factions of Planescape? All Zeb. The unique cant? Zeb. The city of Sigil? Yep, Zeb.
There wouldn't have been a Torment without Zeb. And frankly, there probably wouldn't be a Numenera without Planescape. Planescape taught me how an rpg setting can stretch the boundaries and focus on ideas more than just rules.
If the Ninth World, Numenera's setting, is half as imaginative and cool as Planescape, I will consider it a huge success.